Who am I?
Personal Details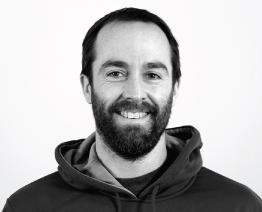 Professional Profile
I am a seasoned front end developer with experience on ASP.NET and PHP projects. After moving to an ASP.NET shop in 2015, I have worked on MVC projects and developed modular front end components that fit into the MVC model. The front end projects are developed using a stack of Node.js, Grunt, Express, Swig, Sass, and a custom HTML5 Boilerplate. This allowed our front end team to quickly develop rich, and reliable web applications. We worked in an Agile-like environment, utilizing Visual Studio's Team Foundation Server (TFS) to create user stories and map out the development process. Two-week sprints were used in an iterative process to deliver the project within the specified deadline.
My programming language experience includes writing custom HTML5, CSS3, PHP, jQuery, Javascript, Razor HTML, Sass, Jinja, and Hubl. Platform integration includes: Sitecore, Kentico, Wordpress, Hubspot, Pardot, OpenCart, CakePHP.
My current interests are creating subtle animations, learning the 3JS library for 3D WebGL graphics, and working on new codepen projects. Check out some of my picked pens at: codepen.io/keithchis
Prior to becoming a full time front end developer, I was the Lead SEO at a digital marketing agency. I shared time overseeing the SEO direction for clients and developing the front end code for websites. This allowed me to develop a unique perspective for website development; utilizing coding standards, a rich user experience, and a good conversion funnel. With my leadership, our SEO has generated website sales of up to 25% of overall sales for a company and has generated contracts for upwards of $600,000 for clients.
My Professional Background
Work Experience
2015

-

2016
SilverTech
Manchester, NH
Front End Developer
Job Description
Front End Developer
Develop interactive web sites and web components by utilizing HTML5, CSS3, and Javascript. Writing modular front end code that is semantic, and compliant for both ADA and W3C.
Developing with a tech stack of: Node.js, Grunt, Express, Swig, Sass, and a custom HTML5 Boilerplate.
Bootstrap framework for responsive development on select projects.
Working with the project team in an agile-like development environment, with iterative testing and two-week sprints.
Integrating the front end cutups into an MVC model with the backend developer, debugging any problems with backend, or QA Engineer.
Integration of REST and JSON API's (Hubspot and Pardot).
Developing blogs within the Hubspot platform for marketing automation, utilizing the HubL language.
Participate in code reviews upon project completion.
Creating documentation for development projects and helping the QA engineer with testing plans.
2009

-

2015
Industrial Traffic
Hooksett, NH
Lead SEO
Job Description
Lead SEO
Responsible for overseeing the SEO strategy for clients, while splitting time developing front end code. Annual SEO budgets ranged from $6,000 to $60,000. SEO work has led to upwards of $600,000 contracts for clients. Development projects ranged from full e-commerce solutions with 20,000 skews, to 5 page websites.
Front End Tasks
Developed in LAMP environment, using Git for version control.
Transforming design comps into functional websites.
Developing responsive websites with Bootstrap, HTML5, CSS3, jQuery.
Working with CMS platforms including: CakePHP, OpenCart, Joomla, Wordpress.
Estimating level of effort for projects or components.
Participate in planning meetings for projects.
SEO Tasks
Training and managing new SEO hires within the company. Subjects include: keyword research, SEO best practices, ongoing SEO evaluations, Google analytics, ranking reports, event tracking, Tag Manager, as well as training for code syntax and validation.
Developing training manuals and best practices documentation.
In-depth Google analytics evaluation measuring KPI's and other data points.
Meeting with clients to discuss overall goals with the website and establish a marketing strategy.
Estimating SEO requirements including: budgeted hours, scope of work, architecture, SEO strategy and proposal writing.
2007

-

2009
Aardvark Design
President
Job Description
President
Consult with clients to identify key requirements, define web project scope, develop project plan and schedule. Maintain client websites, manage updates, perform site re-designs.
Design website layouts and components in Photoshop/Illustrator.
Develop the front end code locally on a testing server.
Setting up Domain accounts and DNS settings for sites.
Performing basic SEO for clients.
Cross-browser testing.
2002

-

2010
Depot Square Steakhouse
Bartender
Job Description
Perform all functions of a full service bar, which included inventory management, customer service, and balancing a cash register.
2003

-

2004
Central H.S. Track & Field
Sprint Coach
Job Description
Developed and critiqued workout schedule for sprinters and hurdlers. Accolades include: 7th ranked sprinter in the nation in the 55m, and 200m dash; Three top three finishers in the State Meet of Champions.
2000
University of NH
B.S. Business Administration
2003January

-

2003December
Southern NH University
Graduate Coursework (4 courses)
2007
Daniel Webster College
Certificate in Web Design
What I'm best at
Skills & Knowledge
Development
Responsive Development
90%
SEO
Usability & Information Architecture
90%
Server Side Configuration
75%
Hobbies & Interests
Sports

Sports

I used to play soccer and run regularly, but I am recovering from back surgery, so I am slowly getting back to myself. I've done 5 Tough Mudders with my older brother Chris.

Music

Music

I play guitar and mandolin, and listen to a wide variety of music.

Reading

Reading

I digest information in all forms, including: blogs, books, news.

Codepen

Codepen

I love working on codepen projects in my offtime. Check me out: keithchis

Loud Music

Loud Music

I enjoy listening to music at an ample volume...possibly 11

Building

Building

I enjoy building garden boxes, doghouses, sheds, planters and more. I even built my own acoustic guitar, check out the guitar building process.

First Snow

First Snow

I'm from New Hampshire, so I love the first snow, the others can eat it!

Travel

Travel

My wife and I have the travel bug, which was only reinforced by our Honeymoon to Portugal and Spain in 2014!